Individual Tax Overhaul proposal – Tax Cuts and Jobs Act of 2017
Individual Tax Overhaul proposal – Tax Cuts and Jobs Act of 2017
https://rockcreekcg.com/wp-content/themes/corpus/images/empty/thumbnail.jpg
150
150
Pauleen Miller
Pauleen Miller
https://secure.gravatar.com/avatar/973a7b183816ab690817ef5b070658aa?s=96&d=mm&r=g
Recently, the House of Representatives and Senate Finance Committee passed different versions of the proposed Tax Cuts and Jobs Act. There is still much debate about tax reform and we won't know what will actually become law until later this year or even until early 2018. This blog provides you with a broad overview of the proposals and how they may affect you.
Part 1 – Tax Savings
Let's start with the proposed tax savings and look at the new rates for joint individual taxes. The proposals are very similar so many people may not actually realize significant tax savings on these proposed new rates.
Here's the breakdown of the current and proposed rates:

So where is the big savings? Well, there's more proposed changes to the standard deduction and exemptions for individuals. The standard deduction may be significantly increased, which is nice however the exemptions are eliminated. If you are a married taxpayer with a child, this proposal may affect your taxes very differently than a single taxpayer.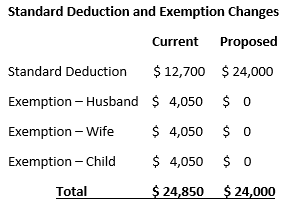 Finally, we get to the heart of the tax cuts – business income. With the proposed plans, if you are an individual with flow-through income from a business (income that is reported in schedule C or with a K-1) you may see dramatic tax benefits. After all, the goal for tax reform was to lower US corporate tax rates. Luckily, the small business lobby put pressure on congress to ensure C corporations were not the only business to see tax cuts. Therefore, both proposals have included tax benefits for small business flow-through income. This is nice because small business is the engine of economic growth right?
The senate version of the proposed flow-through income provides for:
Individuals to receive a 17.4% deduction against schedule C income or income reported on a K-1.
Deduction is limited to domestic ordinary income
Deduction is limited to 50% of W-2 wages plus deferred compensation.
Deduction is phased out at $ 200,000 for professional services (doctors, lawyers, engineers, accountants, consultants).
Basically, with this version if you own your own business and you have employees then they want to provide you with a tax break.
The house version of the proposed flow-through income is very different and provides for:
25% rate for income reported on schedule C
The new rate applies to ordinary income
It doesn't apply to compensation (W-2 salary).
If you own and work in the business then you may apply the 25% rate to your "capital percentage" of flow-through income with a 30% safe harbor for most businesses. What this means is that if you are active in the business then 30% of the income is eligible for the 25% tax rate. Unfortunately, if you are a lawyer, accountant, engineer, consultant or artist then you don't have any safe harbor.
Part 2 – Slash and Burn
So now we come to the slash and burn portion of the proposed tax reform. After all, with all these cuts congress needs a way to pay for it. So, here's a list of some of the individual deductions that will be eliminated or changed.
Eliminated tuition assistance, education credits and tuition discounts.
No more credits for people over 65 years of age, disability credits, adoption credit, mortgage credit, and electric vehicle credits. They are all repealed.
Medical expense deduction eliminated.
Personal property tax deduction eliminated (Senate) or limited to $ 10,000 (House)
Mortgage interest for second residence eliminated.
Mortgage interest incurred may be limited to $ 500,000 of "acquisition indebtedness" on your principal residence. Currently, it's at $ 1,000,000. This could have a big impact for middle-income taxpayers who live in areas where houses are very expensive. Places like California where the average median home price exceeds $ 500,000.
The exclusion of gain on the sale of your principal residence would be limited. Currently to qualify you need to have owned and occupied the home as your principal residence for the last 2 out of 5 years prior to the sale. The new proposal would limit that to the last 5 out of 8 years and the exclusion is phased out if your adjusted gross income exceeds $ 500,000.
Moving expense reimbursements would be taxable income and not deductible.
Dependent care and adoption assistance programs would be taxable.
"This plan is for the middle class families in this country who deserve a break," said House Speaker Paul Ryan (R-Wis.). "It is for the family who is out there living paycheck to paycheck who just keep getting squeezed."
Many middle class families may disagree that this proposal provides them with a tax break. In a recent interview broadcast on CNBC, President Trump said he realizes this bill may hurt the middle class which he confirmed was not their intention and that they are working on changes so that the middle class does receive the tax breaks they were intending to provide.
In summary, review your situation and talk to your tax advisor. You may want to prepay itemized deductions that may expire in 2018 and prepay property taxes.
If you are a business owner, be sure to check out our upcoming blog on the proposed business tax changes. There are many significant changes to the business side of the proposals including changes in corporate tax rates, more liberal expensing of business property, changes in entertainment expense deductions, and much more.
For those brave souls who are interested in reading the full bill click here Tax Cuts and Jobs Act 2017
This information is not the complete summary and is intended to be for discussion purposes only. It is not intended to provide specific tax advice. Please consult your tax advisor for more information.